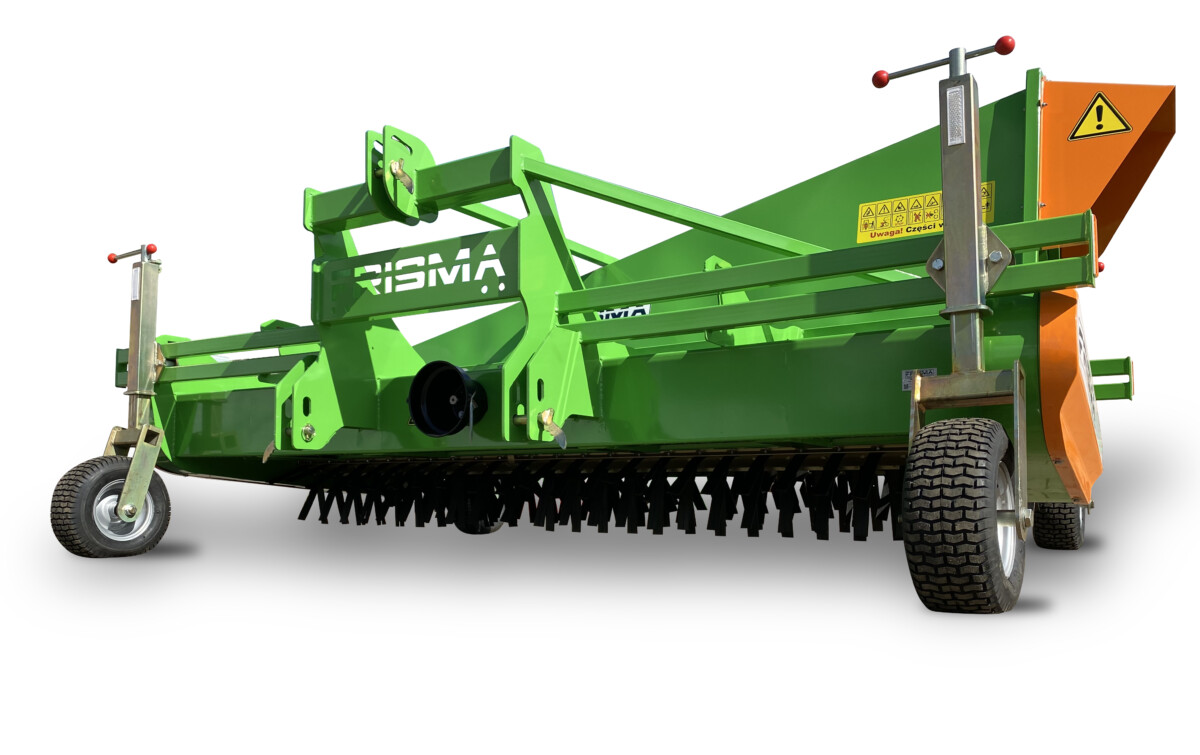 {"pagination":"true","pagination_type":"bullets","autoplay":"true","autoplay_speed":"3000","direction":"horizontal","auto_stop":"false","speed":"300","animation":"slide","vertical_height":"","autoheight":"false","space_between":"0","loop":"true"}
The vegetable topper Hurricane 2700 is an agricultural machine used for the mechanical destruction of haulm (carrot, parsley) spring onions, and leaves (beetroot, celery, parsnip).
The main component in the vegetable topper is its body, with an opening for directional haulm ejection (leaves, spring onions), connected to the system for attaching the machine to the three-point linkage (TPL) of the tractor.
The body accommodates a main gearbox for the working units, which puts drums with rubber flails into rotational motion using drive shafts and belt transmissions. Thanks to this structure, the machine runs very quietly.
The main gearbox is driven by an articulated telescopic shaft being driven by the tractor PTO shaft. The maximum permissible PTO speed is approx. 540 rpm, which translates into approx. 1,300 rpm at the drums.
The topper is equipped with 2 drums with counter-rotating rubber flails. The flails top and discard unwanted haulm without damaging vegetable roots.
The machine is fitted with 4 wheels, with spacing and height adjustment.
The shredder works alone or in tandem with root-topping saws. They are used to mechanically cut off root heads before digging the vegetables out of the ground (see the accessories).
W standardowej wersji maszyny - wyrzut naci na prawą stronę. Wyrzut na lewą stronę możliwy przy uzgodnieniu podczas składania zamówienia.
Rotations of PTO
[RPMn]
max. 540
Transportation speed
[km/h]
20
Maximum working speed
[km/h]
6
Tyres
16 × 6.50-8 6PR, tread ST31 inner tube 6.50 × 8
Rubber-flails number
[Pcs.]
402
ZUPH FRISMA maintains a strategy of continuous development; hence we reserve the right to change the technical specifications at any time, and without prior notice. All operating data and graphic material provided on the website, are for guidance only.
The vegetable topper, due to its design, can work in tandem with a root-topping saw or saws. They are used to mechanically cut off root heads before harvesting vegetables intended for direct processing. Using the root topper, you obtain a carrot (or other root vegetable) with its head cut off evenly at the desired height, ready for harvesting and shipping to the customer.
The main element of the assembly is a steel saw put into rotary motion by means of a hydraulic motor. The cutting blade of the machine is height- and inclination-adjustable, and also the machine uses the feeler wheel for the smooth adjustment of the cutting height during operation.